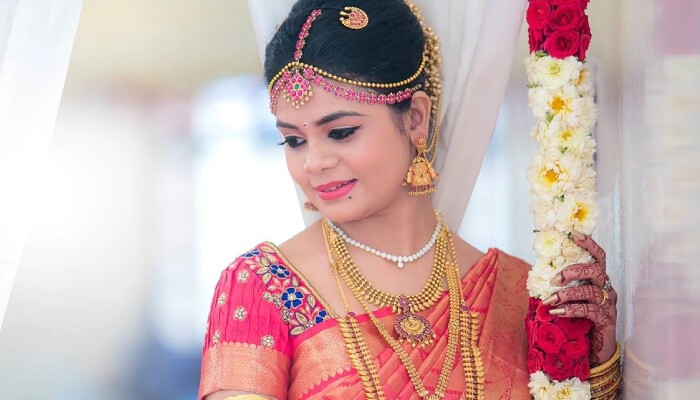 Trending bridal makeup ideas of 2020
Wedding preparations are something that you enjoy to do even if it is tiresome. From finalizing the venues to deciding the menus for the feast, wedding preparations are unending. While your loved ones may take up these responsibilities, preparing your skin and health to the best condition for DDay is your sole responsibility. Though many might debate that makeup or hairdo preparation requires only a couple of visits to the salon, the reality is that these preparations need quite a lot of contemplation. Knowing your skin type and finalizing the products based on this awareness, is quite essential to guard your skin health. After all, looking the best on your wedding day is not your only aim, knowledge about the best products and their usage is an attainment for lifetime. Having said that find out some of the top bridal looks for your special day.
Wedding day skin rejuvenation tips
Bridal makeup has come a long way from dramatic makeups and weird hairdos to minimalistic trends. With leading showbiz actors leading the way, more and more young brides prefer the minimalist approach to makeup. Less of contours and dramatic eye makeups; brides today flaunt natural beauty daring not to conceal their flaws. If you are one of those who love to be natural, then it is the right time to hang on to some natural ways of skin rejuvenation.
The first and foremost step is to understand your skin. Many young brides tend to overwhelm their skin with wrong makeup choices and end up damaging it. Hence, hydrate your skin enough to have glowy skin, intake lots of fresh fruits such as watermelon, bananas, strawberries and tomatoes and follow the two-step cleansing process. Ensure that you use a moisturizer every time you do the cleanups. Remember, a well-hydrated, and moisturized skin is essential to make your makeup look stunning. Continue reading to know about the leading bridal makeup trends of 2020.
Bridal makeup trends for 2020
Right foundation for the skin
The minimalist trend has impacted the look of skin immensely. While earlier, brides resorted to heavy makeup to conceal their flaws, today they demand comfort and elegance out of their makeup. Latest trends of natural skin makeup recommends concealer-only practice, more than the application of foundation. Conceal the places that need maximum work and apply sheer foundation to give the right glow on the wedding day. Embrace the smooth finishing look rather than the high base makeup.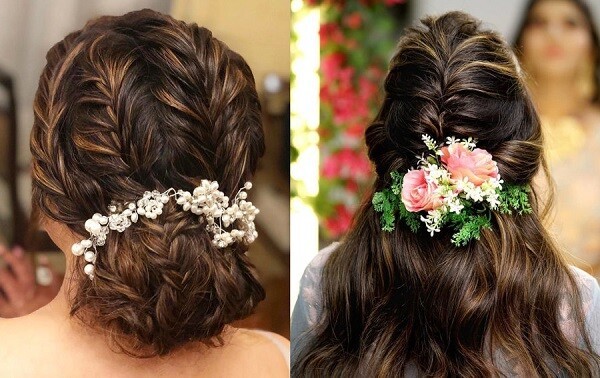 Let down your curls
Weird wigs and hair extensions dominate the wedding day hairdressing practice. Many brides admit that they never feel themselves after regular bridal makeup. Strange hairdos and dramatic makeup take away the sense of their true self.
Nevertheless, the wedding day is all about focusing everyone's attention to you. If you do not wish to resort to the wig and extension traditions, start embracing some cool hairstyles for your wedding day. Careless hairstyles set in loose hair or messy buns are your call. Decorate those curls with minimal flowers, and feel free to let your hair down. Make sure to spruce up your tresses with hydration masks, the day before.
Dare to colour your lips
Bold red lips complementing the white lace wedding gowns are a treat to the eyes. Trending nude and pink colours are two most preferred shades lately, with many brides opting in for burgundy and purple hues too. While the beauty of lip shades depends upon one's skin tone, trends of matching it up with the colours of the floral are also gaining acceptance. Trends and fashion apart, a statement lip colour with minimal makeup can make your bridal makeup the best out of the crowd.
Contours out, Rosy in
The recent trends show that shaping up the face with contours is giving way to natural rosy glow and the trend is going to stay here for a while. The gentle streak of rosy glow is attracting the new brides, who love exhibiting the elegance and grace in their makeup. Make use of cream and powder blush combo to give away a warm look. Do not forget to apply the tinge of pink on the cheeks as well.
Accentuate your eyes with unique colours
Dare to experiment with colours if you love to have fun. Enhance your minimalistic makeup with a coloured liner and be the bold bride. Make it a bit more dramatic with shimmers on the eyelids for that unique and refreshing look. Do not forget to brush up your beautiful lashes with mascaras.
Shimmery nail colours
Experimenting with fun colours on your nails on your D day can be exciting. Match your nail colours with wedding themes and do not forget to add those glittery touches to it. Contrasting colours are also a trending trait for bold brides. Manicured hands with eye-catchy glittery nails is a vision a bride would desire to have.
Find Out More About : Excellent Tips For Wedding Makeup