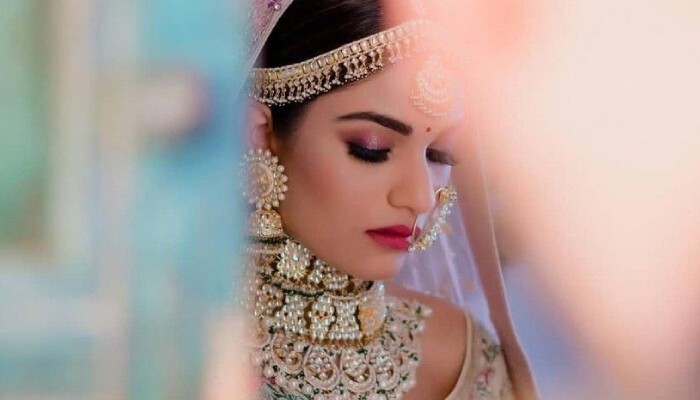 Bridal Makeup: A Must-Have On Your Wedding List
No girl is going to say "I do" without at least a dab of lipstick and a touch of powder on her face. At least 99% of them wont. After all, every bride wants to look the best on her big day. The art of makeup today has evolved and has been completely reinvented than what it was several decades ago.
The goals remain the same: To enhance the natural beauty of the bride and to highlight her best features. Makeup is no more garish and gaudy. It is subtle. Bridal makeup has become a well-honed art that requires intuition, eye-for detail and an aesthetic sense.
With the big boom in the cosmetic industry, we now have access to a plethora of cosmetics that promise better results. Girls are spoilt for choice and they experiment with everything that hits the market way before they even get engaged. The new generation of brides naturally expect to see stunning results on the most important day of their lives.
This calls for experts who are adept in conjuring the perfect wedding makeup looks. Bridal makeup is also a challenge that has gone up by several notches. Here's why. There are several pre-wedding events leading to the big day. This gives the artist the perfect opportunity to make the bride look like a diva on every occasion, by creating several types of makeup looks.
Take a look at what they are:
5 Ways To Make You The Most Beautiful Bride Ever!
Matte Makeup
Matte makeup is perhaps the most popular of all bridal looks. It is highly preferred for three reasons:
It allows you to experiment with bold hues and colours.
It is very subtle but it brings out your features in an awesome way.
It is perfect for any kind of weather.
Matte bridal makeup is the perfect choice for brides who want to have the cake and eat it too! There is makeup on the face, but the finish is so subtle and stunning.
It is safe to use on acne-prone skin as the products used for matte application do not contain excess oil. Matte makeup wins hands down if you want makeup that is long-lasting and lightweight on the skin.
2. Natural makeup
Natural wedding makeup is another big favourite amongst brides who want to retain that natural look instead of the loud and dramatic makeup. This is the kind of makeup that gives the bride the "peaches and pink" look, making her look like she is blushing the whole day!
Getting natural makeup right is an art in itself. The use of the right toned cosmetics should make the bride look flawless without hiding the natural features.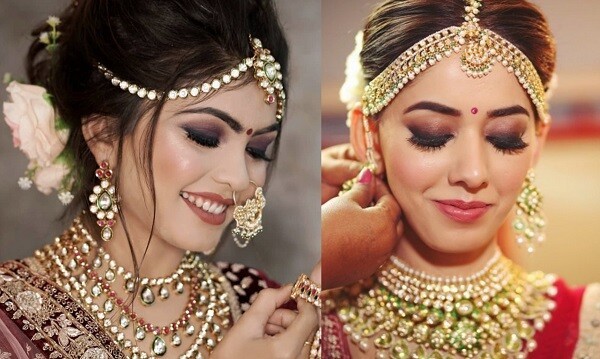 3. Smokey Makeup
Smokey makeup has been a fad for a long time. It takes a few years of experience to nail the art of smokey makeup. Smokey makeup is all about creating a sexy, powerful look with the main focus on the eyes.
The main choice of colours are black and grey and a few shades of brown. They are expertly used to create that smokey-eye look. The effect is further accentuated with fake lashes, winged eye-liner, and kohl. The lips are done with a dab of nude shades to keep the focus on the eyes.
Smokey makeup is best used for night or evening events. It perfectly projects the bride as an epitome of beauty, grace and power.
4.High-Definition Makeup
Of all the different bridal makeup looks, nothing hides the flaws on the face like HD or high-definition makeup. A bride is photographed a thousand times and precision cameras can capture all the creases and lines that are natural and makeup-induced.
The cosmetics used for HD makeup have a blend of quartz, silica, mica and crystals. They diffuse the light and make the skin look blemish-free. HD makeup is applied with brushes and blending sponges.
HD makeup is a great way to transform a bride into a stunning diva. It creates a natural look on and off the camera and the makeup remains radiant for hours.
5.Airbrush Makeup
As one of the latest techniques of makeup, airbrushing is quite a revolution. Unlike other methods that use sponges and brushes for application, the cosmetics are applied with an airbrush.
This allows the makeup to last for hours with a smooth, flawless finish. It may be a little heavy on the skin. But airbrushing completely covers all visible blemishes and complexion differences without making it look cakey.
Choose The Perfect Makeup For Your Wedding
Your makeup cannot go wrong on your wedding day when you are going to be the cynosure of all eyes. These pointers will make it easy for you to make the right decision regarding your D-day makeup:
Always seek the help of a professional who has a good reputation and experience.
Choose different types of makeup for different pre-wedding and post-wedding events.
Keep the weather, lighting, attire and time in mind.
Keep your skin healthy with regular exercise and a balanced diet.
Have a trial session to lock in on the perfect look on the wedding day.
With these tips, your wedding day makeup cannot go wrong. Get ready to harness that inner diva in you!
Find Out More About : Tips To Select Bridal Makeup Look