Best wedding decoration ideas you should utilize
Most wedding functions are organized grandly. Besides the bride and groom, wedding ring and lovely decorations, the wedding memories and celebration remain in mind forever. Most couples enjoy collecting lovely wedding photos as a memory of their wedding event. Wedding decorations give life to the entire raw wedding aura.
There are different kinds of wedding decorations, which each bring a unique kind of attraction and charm to the ceremony. It also aids in developing an impression in the guest's mind. We have shared some of the best wedding decoration ideas which you can utilize and make your event an outstanding one.
Wedding decoration ideas for the vintage theme
 Fantastic frames: Frames are always in trend and do not go out of fashion. They can be utilized in various styles and shapes and designed as per your choices. The best part is they suit every décor and theme of the wedding parties.  They camouflage themselves beautifully with the ambiance. Decoration frames are simple to make and set.
As they are always on-trend, there is no need to worry whether it may look odd. If the theme of the wedding is vintage, you can select wooden frames. In the same way for the floral fiesta theme, colorful floral patterns go well. In recent years, frames are sliced into famous social media websites like Facebook and Instagram. They look trendy and chic.
 Vivaciously vintage: Are you searching for the best vintage wedding decorations? Well, you need to consider this kind of frame. It looks lively as well as offers one of a kind or unique feeling. Vintage decorations are always popular due to their elegance and charm. You can set vintage wedding swings and chairs for the couples. The swing can be decorated in a vintage style as well as lovely flower decorations matching the vintage theme.
Have you ever thought about the classic vintage car? Well, it looks exclusive and the best option to represent the vintage theme. Flower decoration enhances the beauty and looks of the entire vintage decoration. When you see the albums, you can notice a classic look due to the vintage chairs. When it comes to the photographer's point of view, vintage chairs are trendy and royal.
Latest wedding stage trends and ideas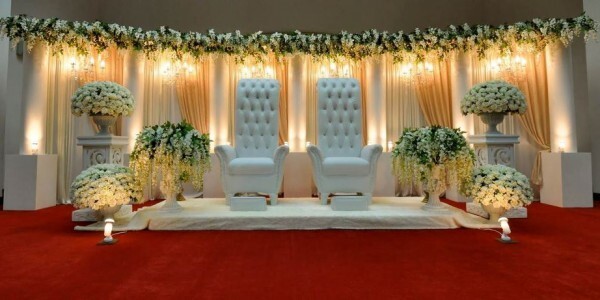 Breathtaking balloons: Most people wonder whether balloons go well for wedding decorations. But yes, they help in giving an extraordinary look to the ambiance. Do not choose the everyday party balloons when you want to use it for wedding decorations. You have to select oversized air balloons or big balloons to enlighten the entire wedding ambiance. They can be just blown or left free into the air at the culmination or any moment of the occasion. They surely represent a big bundle of joy and suits into any type of center stage and theme.
 Enchanting LED tree: In recent years, lovely bright LED trees are used as a wedding decoration element. It dazzles the entire ambiance and the guests. One or two beautifully decorated trees with sparkling lights serve as an excellent wedding prop. It looks excellent, especially for wedding photographs. Experienced photographers know how to utilize the lighting for the pictures. It should be in an appropriate manner to develop a pleasing theme.
We hope you find this list of wedding decoration ideas useful for organizing and planning your wedding theme. If you want more ideas, you can research on the internet or consult a wedding decorator. The professionals share ideas that fit your budget.
Find Out More About : Wedding Decoration Ideas For A Cost Effective Wedding