Planning For The Perfect Wedding
Wedding blues can hit even before the wedding, as you plan for the perfect wedding. It can be crazy at times and we tend to feel overwhelmed on the myriad options that are present in today's world. The internet has plenty of inspirations and wedding decoration ideas that you will find it tough to zero in on one. One main factor that will be a guiding light to plan the wedding is the budget. You can splurge on your wedding or plan it on a shoestring budget. Anything is possible with a perfect plan.
Wedding decorations take away a small chunk of your overall wedding budget. To create a dream wedding, your wedding venue should be pompous and beautifully decorated. It could burn a hole in your pocket if you don't plan it well. A dream wedding on a budget should be the aim  and it can be achieved if you are resourceful. With simple and cost effective ways,  you can make your wedding look effective. Let us take a look at some of the resourceful wedding decoration ideas that can create an expensive looking wedding.
Wedding Decorations On A Budget
Your home is a treasure trove and unearth all your wedding decors out right inside your house. You can plan a vintage, rustic or chic wedding based on stuff lying around your home that can be used for the wedding ceremony, reception and cocktail. There must be things like candle holders, baskets, frames, chalkboards, old books, furniture and signs. Common household decor can be turned into a beautiful piece of wedding decor. Flowers can be very expensive. So, make maximum use of the flowers. Try to reuse the flowers in the bouquets, and on the aisle for table arrangements in the reception. This way you don't have to invest on flowers for two separate events on the same day. You might have to let the florist know that you plan to reuse them so it can be arranged super versatile. 
Collect leftover items from family and friends. There must have been a recent wedding at home or in the family and they should have items like linens, candles, decors and place settings. You can also see if you can borrow used wine bottles, and beautiful vintage frames that will fit your dream wedding decor. Ditch all the gold and silver items for the centrepiece that can be too expensive. Instead use spray paint to give a metallic sheen to spruce up your decors. It is a small investment that can go a long way. Linen upgrades can be really expensive and that's not what we want. Try some simple trick that will do the trick. Instead of having linen napkins set on each and every table, you can have paper napkins designed into dance shape on each plate or a pocket with the menu tucked. Most of the caterers will do this free of cost.
Perfect Wedding With Perfect Wedding Decorations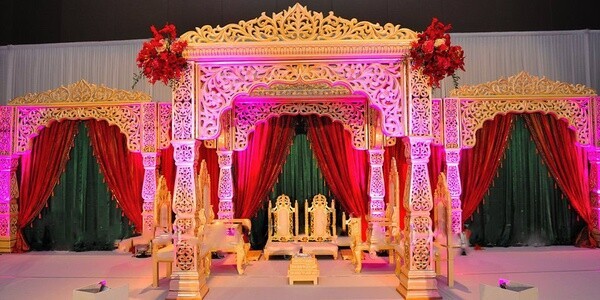 Candles are the most inexpensive way to brighten up the venue compared to fancy lights. It can add an aura, class and a romantic feel to the entire venue. Candles can also be reused after the wedding so it just doesn't go wasted. See how much space around your house can be used for the wedding. If your outdoors is filled with flowers, lush greenery and fruit trees, then it can be the perfect backdrop for the wedding reception. You can use the flowers for bouquets and table arrangements and the fruits can be used for the centrepiece.
Have fancy writing around the venue. It can be invitation signs, escort cards and table numbers. You make them look appealing with calligraphy. It is a huge trend and doesn't have to be costly. You don't have to depend on a calligrapher to do this for you. You can study the art of calligraphy from online video tutorials and try creating all the writings on your own. This will be the most cost effective way. You can also get the calligrapher to create one handwritten piece and make a digital copy to reprint several more copies. Calligraphy can add class to the venue and ensure you use them sparingly wherever necessary. 
Have a frame for every text displayed on the venue. Your table numbers will look elegant with a classy frame. Look around your home if you can reuse some of your existing frames. It can be inexpensive and a gorgeous addition to your venue. If you find the right shape and size, but a wrong colour you can spray paint it to suit the whole scheme of things. There could be plenty more ways to have a budget wedding and the onus is on you to plan it up perfectly.  
Find Out More About : Stylish And Magical Wedding Decoration Ideas