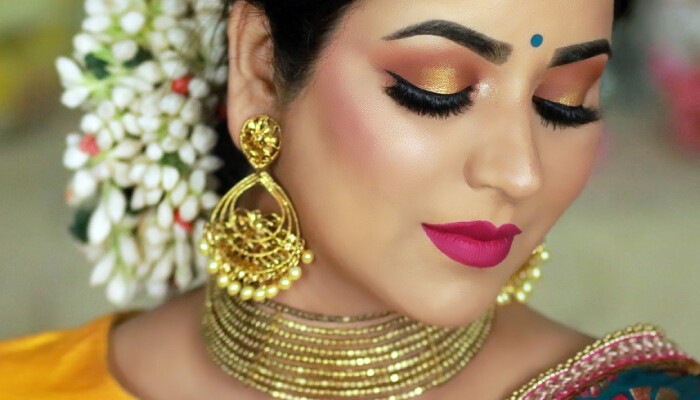 A wedding is a memorable event, and looking great on your big day makes you feel good. Wedding makeup offers a unique look to a bride. Bridal makeup includes specific components. Eye makeup is a crucial component of bridal makeup. It makes the makeup catchy and complements the overall look of a bride. Eye makeup offers an attractive look and brings out the inner beauty of a bride. Makeup artists must be aware of the trending styles and looks of wedding eye makeup. The article gives a glimpse of the popular wedding eye makeup looks.
Smokey Eye Look
This is a trending eye-makeup look preferred by modern brides. This type of eye-makeup suits with stylish and grand wedding attires. A perfect blend of back and golden shade gives an ideal look to the smokey eye makeup. You can also add shades that match to your wedding attire. These simple tips can help beginners to come up with a stunning smokey eye look.
Beginners Tips and Tricks:
For better results, wash your eyes thoroughly before the eye makeup.
Make sure to apply the black eyeliner the right way for a flawless smokey eye look.
Be gradual in including additional shades to the smokey eye makeup. This would ensure a perfect smokey look.
Complete this style of eye makeup using eyeliner. This offers a glamorous finish to the smokey eye makeup.
Copper Eye Look
A copper eye look is a right choice for brides who wish to look appealing on their wedding. It is quite close to the smokey eye look. This eye makeup look offers a traditional bridal look to a bride. Brides prefer it as it suits perfectly for all types of wedding attires. Copper eye look matches well for colourful and attractive wedding outfits. Cocktail wedding outfits can be paired with copper eye look makeup. Follow the tips below for an outstanding copper eye makeup look.
Beginners Tips and Tricks
Make sure to use a black or brown eyeliner for this specific eye makeup look
Choose shades from smokey-eye palettes. Charcoal greys and blacks are the right choices of shades
Go for bold lashes and a gliding eye-line to give a perfect finish to the copper eye makeup look.
Charcoal Eye Look
This is a unique eye makeup for a dramatic bridal look. Go for grey and silver shades for a flawless charcoal eye look. Brides can prefer this attractive charcoal eye look for a wedding party, disco party or sangeet function.
Beginners Tips and Tricks
Try using eye lenses of colours that suit with the charcoal eye makeup shade.
Finish this eye makeup by using artificial eyelashes.
The above gives a clear outlook into the popular bridal eye makeup looks.
Find Out More About : Trending Wedding Hairstyles!