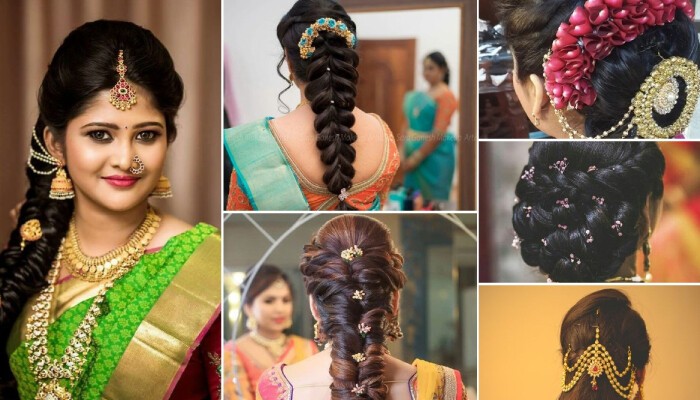 How to choose a wedding hairstyle?
If you are busy planning for your bridal look, there is one thing that you do not need to worry about- bridal hairstyle. We have simplified for you by sharing some of the trending options. Most people get confused as there are several options. No matter, you wish to go with a double or single dupatta, or fully bride chilla type with a hair accessory or a floral tiara, you have some of the best options as per your preferences. If you have shortlisted any specific hairstyle and wish to try it on, you can approach a professional hairstylist to do it for you. This way, you can find out whether it suits your looks or not.
Remember deciding the wedding hairstyle a few weeks before the wedding is very important. It helps in accomplishing your dream wedding look.
In recent years, most brides are falling in love with buns and choosing classic buns for their wedding day. Well, buns are suitable for any grand ceremony. It suits for engagement, Mehendi, reception, or Jai Mala. It is best to try a bun for any of these occasions. It is perfect for all types of hair. No matter, you have curly hair or straight hair, the classic bun will instantly give you an attractive look.
Top wedding hairstyles to select
Fishtail braid decorated with flowers: If you have noticed Sonam Kapoor's Mehendi pictures, you would get an idea about this hairstyle. She has tried a traditional hairstyle – long fishtail braid with several mogras. This hairstyle is said to be a trendsetter and it has been tried by several brides after Sonam Kapoor. The braid was made messy and it was extended till her butt. The overall look was elegant and attractive.
Buns with plaits: The combination of plaits and buns is always stunning. It does not go out of trend. It shares an elegant, versatile, and smooth look. This hairstyle can be done upside down or inside out, can be inserted and looped and Dutch and French, and fishtailed. It can be done by any method by just following a proper inspiration.
Traditional South Bridal hairstyle: It is simple to grab everyone's attention with a traditional South bridal hairstyle. These brides utilize flowers of several colors with the lovely gajra. So, the overall result looks amazing.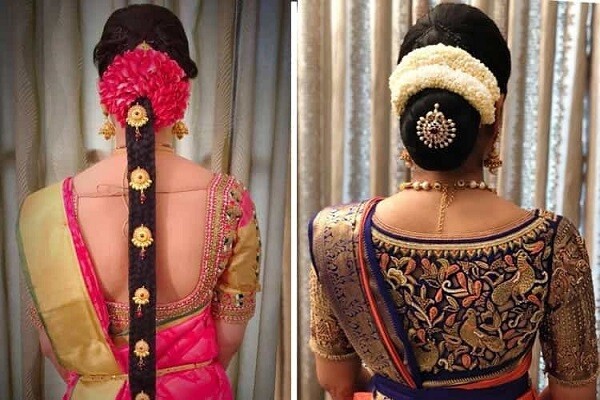 List of modern and trendy wedding hairstyles
Curl it up: One of the latest trends that have caught the attention of many brides is the curls. You have a lot of options when you are using curls. You can do a middle partition and add a gorgeous maang tikka. Most of the Indian brides who have long hair are choosing soft curls as it gives a trendy look and at the same time goes well with all kinds of wedding wear.
Hair to single side: Another best option for Indian brides is keeping the entire hair on one side. If you have short hair, you can add extensions either curls or straight extensions, and organize the entire set to one side. Surely, you will like this look for the simplicity and elegance it offers.
Fuss-free hairstyle: If you are a person who does not like buns, you need to try this fuss-free hairstyle. It is recommended for brides with long hair. You just have to plait at the top and curl the rest. It instantly gives an impressive and stunning look. If you want to add more elegance to the hairstyle, you should use decorations or colorful flowers.
We think that these options will not confuse you and suit all kinds of hair. What's more? Choose one that impresses you and get ready for your big day.
Find Out More About : How To Choose Your Wedding Hairstyle?