Wedding and reception decoration ideas
One of the important events for all brides and grooms is the reception ceremony. It is almost similar to their wedding function. It will be equally grand and memorable. Reception is organized as a grand event and some couples arrange for lively music bands. During the ceremony, delicious meals and exotic drinks are served to the visitors. The best photographer will be hired to click all the lovely moments. Some even arrange for videographers to capture the moment's feelings.
The reception stage plays an important part in the ceremony. It is the main attraction since most of the pictures will be clicked from the reception stage. It serves as a backdrop for the groom and bride. Making the decorations appealing and creative is the main element in changing this ritual into a memorable and grand celebration.
Some of the best reception stage decoration options include flower reception stage, classic gold, and red wedding stage, maroon and gold themed wedding stage, night sky themed wedding décor, etc. Besides these, we have shared some excellent reception and wedding decoration ideas which you can consider utilizing it for your ceremony.
Show-stopping reception decoration ideas to grace your venue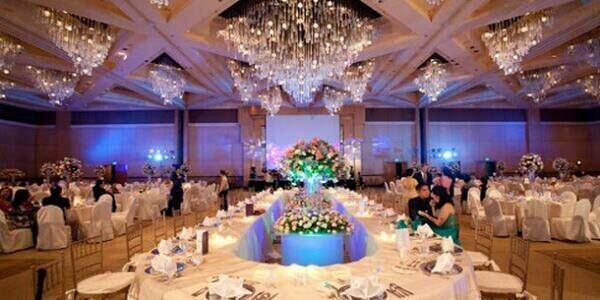 Floral and twigs arch: If your wedding hall is located close to the garden, you should utilize matching wedding reception decorations that go along with the surroundings. For instance, a neat bunch of twigs works great as wedding decorations. Branches should be twisted to form a large arch. Thus, it can be made as an entering décor of the wedding hall. If needed, it can be completely decorated with flower bunches or small color lights to bring an attractive and charming look.
Ribbon parasols and chromatic backdrop: The backdrop of the reception stage should not be left plain. It is best to try some creative wedding decorations. When it comes to setting up a chromatic backdrop, you should use vibrant colors. You can select beautifully patterned panels for the backdrop. To make it look grander, you can arrange large parasols and use colorful ribbons to dangle from the top.  Include a few lovely antique pieces to bring that rustic look in the reception stage. You can select some of your favorite antiques to decorate the reception stage.
Colorful decoration ideas for your reception ceremony
Lovely garden with huts: If you want to incorporate a vintage appearance to a thick garden, you can make huts. It is the best alternative for royal parasols and shades. Use string lights to decorate these huts. Thinking how to decorate shrubs and plants in the garden? Collect some lovely string lights and twist them or hand them gently on the thick shrubs and even in the tree trunks. Organize beautifully draped chairs for the guests. Ensure that the chairs are covered with good fabrics. When all these are set, the entire reception venue would look dazzling and great.
Flower backdrops: Most people do flower decorations for the entire backdrop. It has become a very common wedding decor. If you want to do it creatively, you should decorate only a portion of the backdrop with flower decorations.   Nowadays, crystal vases are popular and utilized creatively in wedding decorations. Decorate the stage with big cylindrical crystal vases. If needed, you can utilize twig bunches along with them. You can place the entire backdrop decoration opposite to a plain drape.
If your reception is taking place in a traditional residence, you can use grand interiors and high ceilings for the decoration. The best part is you will have enough space to use vintage decoration items. For example, a well-decorated blossom tree adds a fairytale and romantic touch to the ambiance.
Find Out More About : Pre-Wedding Decoration Ideas For Functions At Home