Simple Wedding Decorations
Weddings are one happy event that we love to celebrate with pomp and gaiety. Indian weddings have several rituals before and after the wedding. Most of the pre-wedding rituals will happen at home. It is likely you will have guests a week before the wedding. There are so many arrangements that you will have to make including the wedding decorations. Your home has to look presentable, beautiful and ready for the wedding ceremonies. Kirtan, pooja, haldi and mehndi are fun and joyous rituals and the joy is even more when you celebrate these at home in the company of loved ones.
One advantage of having all the pre-wedding functions at home is that you can easily save money. You don't have to splurge on booking venues that can burn a hole in your pockets. The only expenditure will be on the pre-wedding decorations and food. It will become an intimate affair amidst closed relatives and friends. They get to stay with you and be a part of all the fun and exciting rituals. Your house should get ready for the function. Let us take a look at some wedding decor ideas to make your home look like a wedding venue.
Creative Wedding Decors
Handicrafts, drapes and flowers can make your home look extra special for the pre-wedding rituals. Flowers may be a norm but it can really do the magic. The mesmerizing aroma and colors can add beauty and elegance to the rituals. It is flexible and you can decorate them the way you want. You can decorate the lights, swings, stairwells and the podium with flowers. You can hang painted flower tyres around the garden. Let the tyres be in bright hues with pastel flowers hung around the middle. Painted mason bottles and jars filled with flowers is another trendy option for a wedding decor. It is convenient, easy to purchase or make and looks trendy.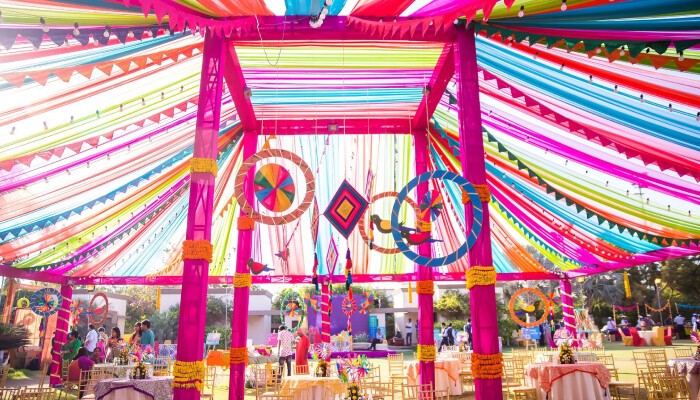 Handmade crafts can be a great wedding decor. You can set aside a space in your house for such handmade crafts. It can easily transform your cosy home into a beautiful wedding venue. Place swings in the outdoors and decorate them with lights and flowers. Mehndi and haldi can be performed here. An open space can accommodate more people. Adorn with bright lights and flowers to have an eccentric look. Drapes can add aesthetics to your home. To get the festival feel, drape with colorful curtains or dupattas. The podium, dining area and other open spaces are areas you can think of adding the drapes.
Beautiful Wedding Decor Ideas
Lights are a beautiful addition to wedding decors. The fairy lights can add a magical feel to your wedding ceremonies. You can decorate the chairs, podium, garden and trees with bulbs and lights. Add props for the photo booth. It is a splendid idea and the guests will be hooked on it. Add colorful and unique props that can bring a lot of fun. Photo wall is another interesting addition. You can display photos that can go down the memory lane. Lovely pictures of the bride and the groom starting from their childhood will make things really interesting.
Quirky signs, number boards and directions can be great additions. You can make use of calligraphy and add some out of the box effect to keep your signage creative and quirky. Add some desi touch with traditional stuff like the Rajasthani printed umbrellas. It is a great addition at the entrance and gives a welcoming vibe for the guests. There are many such ideas for wedding decorations. Based on your budget, choose the ones that are most appropriate for the wedding rituals.
Find Out More About : Decoration Ideas For Pre-Wedding Events