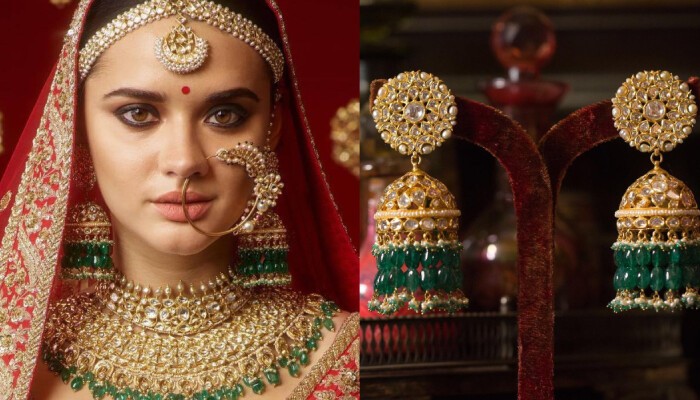 Earrings: the best bridal jewellery
Lovely ear hangings adorn a significant part in a bride's wedding outfit. From polki, Kundan, gold to diamonds, the wedding market is beaming with a plethora of choices for wedding jewelry. The earrings add a touch of elegance and tradition to the entire wedding outfit. Here is a list of ten fantastic pieces of ear hangings that can add the perfect glamour to your wedding outfit.
Significance of earrings ideas for the wedding jewelry
Girls love to dress up. And with weddings lurking near, the brides take an extra effort to suit their entire outfit with a matching set of jewellery. The jewellery plays a significant part in adorning the bride, whether it is a haldi, sangeet to the actual wedding day. Every piece of wedding jewelry symbolically represents a meaning associated with the tradition or culture. It is believed that the wedding rings worn by the couple in the ring fingers touch a vein that connects to the heart.
Similarly, bangles also represent different cultures across the country. In central and south India, green bandles signify prosperity and fertility, whereas glass bangles represent the safety and luck for the husbands. Donning earrings is believed to protect the brides from all the evils. Below is a list of five impressive pieces of earrings that can enhance the looks of the bride's wedding outfit.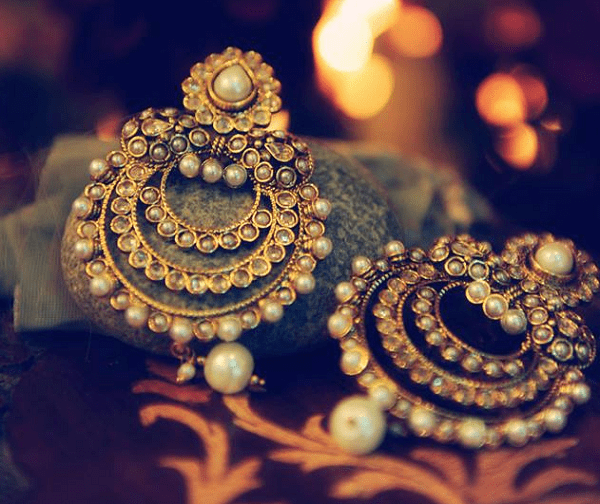 Top wedding jewelry trends
Traditional earpiece designs
The traditional Karan Phool jhumkas made with uncut diamonds, pearls and rubies are still adored by the fashion lovers. Many brides love to adorn this intricate classic piece to their wedding outfit. Some prefer two strands of pearls taken around the ear to support these heavy earrings. Regional preference also adds to a few unique embellishments to the basic design. Traditional designs have great beauty of their own and those who love to sport these looks, genuinely love their culture.
Pearl earring designs
Pristine white earrings for Christian weddings or the Kundan inspired traditional earrings are an elegant choice for the wedding day. Simple pearl drops with diamonds are the best accessories that fit with the wedding outfits of Christian ceremonies. Simple pearl accessories are also must-haves for the post-wedding celebration that involves a lot of simple outfits. Kundan inspired pearl necklaces that are often paired with pearl earrings add glam to the exquisite lehengas or embellished saree in the post-wedding parties.
Polki earrings
If you love to have both the contemporary and traditional look for your wedding outfit, then polki jewellery is your call. An inevitable presence in most of the Bollywood weddings, this design is garnering up a lot of interest. The rustic looking uncut diamonds are a great visual treat and are a great addition to your wedding jewelry.
Kundan earrings
These traditional pieces of jewellery involve gems embedded in gold foils and are often regarded as the first choice of an Indian bride. Kundan design, an elaborate and intricate work of art believed to have originated in the royal courts, has a great fan following. Generally paired with a Kundan necklace, Kundan earrings are a great addition to the bridal outfit that emanates an aura of its own.
Diamond earrings
'Diamonds are a girl's best friend', the song's lyrics truly have significant relevance even today, with scores of women preferring the precious gem for their wedding jewelry. Own an intricately designed set of diamond earrings for your wedding and make all heads turn.
Find Out More About : Top Wedding Ring Options This Season