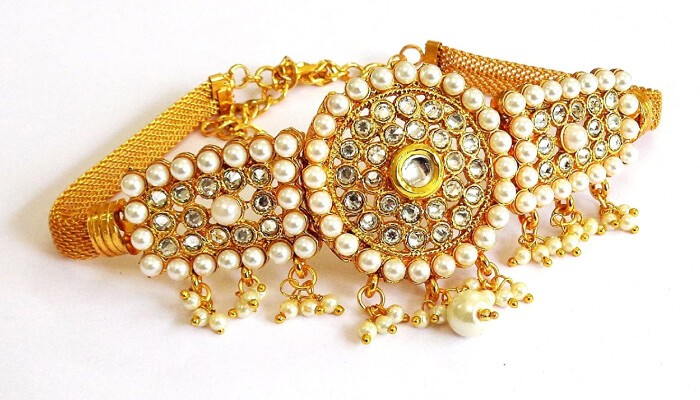 Why is bajuband an important wedding jewellery accessory?
If you notice how an Indian bride is decorated, you can find a lot of artwork. All accessories and decorations from the head to toe will be carefully planned and designed to look as dreamt. Jewellery plays an important role in Indian weddings. The brides are decorated like queens during the wedding occasion.
Earrings, haath phools, bangles, necklace, and maang teeka makes the bride look elegant and royal on the wedding occasion. Another piece that is preferred by all brides is the bajuband or armlet. If your wedding has been planned in the next six months or one year, you need to follow the below-mentioned wedding jewellery ideas for a perfect wedding day look. We have also shared how to buy the best bajuband as part of the wedding jewellery.
Why are temple inspiration and royal bajuband preferred?
Temple jewellery is known for its exquisiteness and grandeur. It consists of several flowers and leaf-like designs in it. As it is made out of yellow gold, it is worn by most of the South Indian newlyweds. Bajuband that is inspired by temple jewellery designs and styles looks very traditional.
Royal bajuband is impressive and looks like a queen's piece. If you want to draw the crowd's attention, it is best to select a royal piece. Watch Aishwarya Rai Bachchan accessories in Jodha Akbar. You could find her wearing that beautiful royal bajuband in the wedding scenes. Such designs will surely remain as a highlight to your attire.
Another popular bajuband is the Marathi style. As the brides are playful, the bajubands also look cool and trendy. These are edgy. It is best for a traditional Marathi style wedding. If needed, you can buy in gold or any particular metal you want. It easily goes well with your colorful nature.
Twisted U is preferred by brides who do not prefer that traditional design. It comes in U formation and has a string that you can use to tighten it towards your arm. It is almost like a bangle. If you have seen Aishwarya Rai wedding pictures, you can notice her wearing a Twisted U bajuband.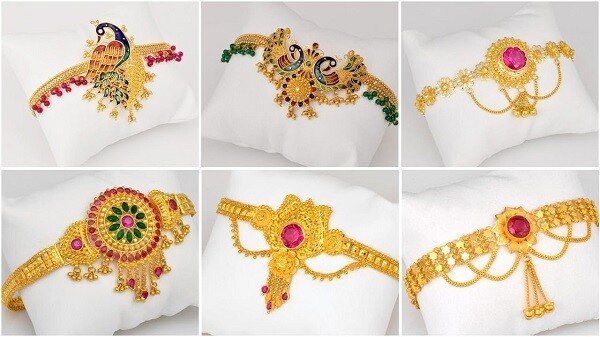 What are some expensive options available in bajuband?
Diamonds are said to be the most expensive option when you want a fabulous bajuband. It is the best choice if your entire wedding jewellery is planned to be in diamonds. It will surely give that oomph feel to your entire look. If you are pretty sure about wearing only diamond jewellery for your big day, then you need to choose a lovely diamond bajuband.
Peacock is said to be auspicious and it is the reason you can see numerous peacock motifs and designs in most of the Indian wedding jewellery pieces. If you are wondering how a peacock bajuband would look, you should check out Shilpa Shetty's wedding photographs. She has matched with traditional temple jewellery that has peacock motifs all through. Peacock bajubands looks attractive and pleasing. It is almost like carrying luck on arms on the wedding day.
Light of kundan: It is available in both traditional and modern design. Kundan is all-time favorite and used by both North Indian and South Indian brides. Kundan jewellery is highly preferred as it teams with all designs and colors. Kundan bajubands complete your wedding look and also goes with your other wedding outfits. If you have purchased kundan bajubands, there is no need to worry whether it will match your dress or accessories. It automatically suits you well as you dress up and fix them on your hands.
Colors on hands: If you want to use colors creatively in your wedding jewellery, you need to try wearing colorful bajubands. It looks attractive and eye-catchy. Many brides will fix a common color theme for their wedding. If you have such a color theme, you can select bajubands in that particular theme. If you are budget conscious, you can choose rainbow shades as it goes well with any color and also be used any time in the future.
A bajuband decorates the mehendi hands and makes them look more beautiful. It is a custom to wear on the wedding day.
Find Out More About : Five Impressive Earring Choices For Brides