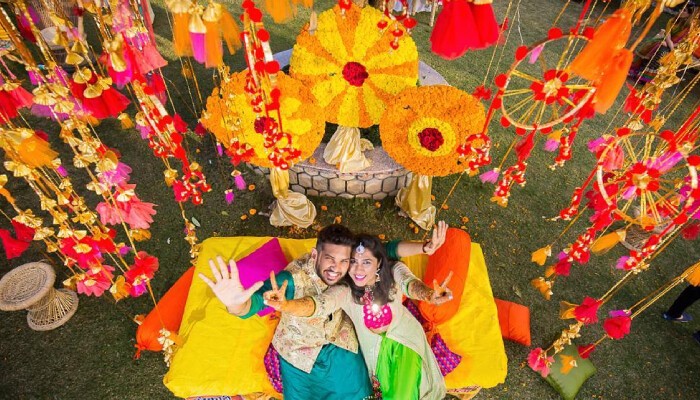 Organic wedding ideas and tips to consider
The world is realizing the beauty and benefits of nature and the wedding industry is also towards it. Organic weddings are the new trend that has impressed many people. Organic decor involves natural materials and colors, a touch of boho, and rustic with a scatter of industrial and a combination of fresh and dry flowers. All such elements easily impress every bride who wants a breathtaking style for the wedding event. We have prepared a list of inspirational decoration ideas that will help you to know more organic wedding décor.
Natural color palette for complete organic wedding romance
Some of the best color palettes that represent organic wedding décor are lovely shades of browns, greys, beiges, nudes, and dusty blues combined with black and classic white for a decent contrast. Such a neutral palette would not add anything new but offers pure luxury and elegance to the wedding venue. It is best to utilize these tones without any hesitation. Surely, you would see stunning results, especially in your wedding pictures.
How to utilize natural fabrics and materials in wedding decorations?
Natural fabric and materials improve the coziness and warmth. Cozy can be chic and luxurious. It will make the guests feel calm. Organic wedding décor improves the beauty of ordinary textures and appearances of several sustainable fabrics like linen, hemp, jute or burlap, and cotton. Combining and matching wood elements in the form of dish pieces, blankets, petal cones boxes and logs add a warm feel to any venue. It suits any venue like a hotel or an industrial factory. You can also consider using tablescape decoration ideas by utilizing ceramic bowls and plates.
They look stunning when mixed with fancy glasses and gold cutlery.
Are you looking for an alternative to fresh flower bouquets and decorations?
Well, you need to consider utilizing dried flowers. They can be used for a bridal bouquet or as excellent wedding table centerpieces. You will love it when it is combined with fresh sorts like in a unique decoration style. It will look stunning. One of the best wedding decoration ideas in winter, early spring and autumn is dried flowers. It matches the outside weather and is also affordable.
Are you wondering what type of dried flowers are best? You should start thinking about flower arrangements. Some of the best species for flower arrangements are Gypsophila, Bunny Tails or Dried Lagurus, Lunaria Annua, and cotton combined with beautiful fresh roses. If you put some extra effort, you can find organically dried and grown flowers.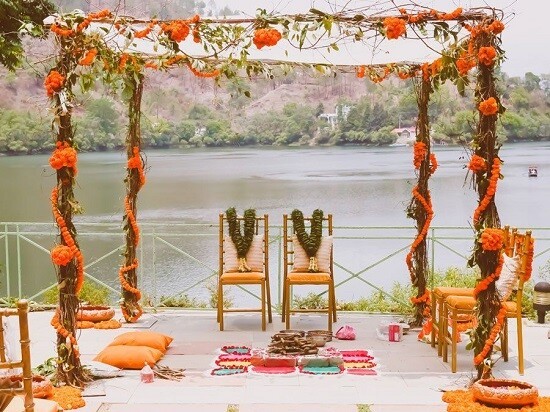 How to maintain elegance in organic wedding decorations?
Organic wedding decoration is all about a good balance between trendy and modern and daily or ordinary elements. We have some examples that will help you in getting some ideas about organic wedding decorations.
Do not miss organizing the seating: To make the seating look stylish, it is best to select a plexiglass seating plan on a wooden easel with antique gold wax seals and cards. By reusing the plexiglass with dried flower arrangements, you can make perfect wedding seating.
Focus on small details: Have you included a cotton candy bar or a photo booth? Well, if you have added, you should give importance to small details. The decorators make use of printed labels showcasing each corner. If needed, it can be bordered in silver or gold frames for that elegance feel. Use LED low energy fairy lights as it sparkles both indoors and outdoors.
Materials and fabrics: Some of the best organic materials and fabric you should consider utilizing throughout the decorations are clay and ceramic, oak, birch, hemp, burlap, linen, muslin, and cotton.
Place Cards: In recent years, paperless stationery is highly popular. It is best to send invitations and other reminders through digital platforms. On the wedding day, eliminate paper by utilizing eco-friendly place cards. Some stationery companies print on recycled paper and bamboo. If you wish to take an organic theme to the next step, you can write the guest names onto sea glass, pebbles, and leaves. All these ideas look perfect, especially for a coastal ambiance.
Find Out More About : Tips To Refurbish Wedding Decors