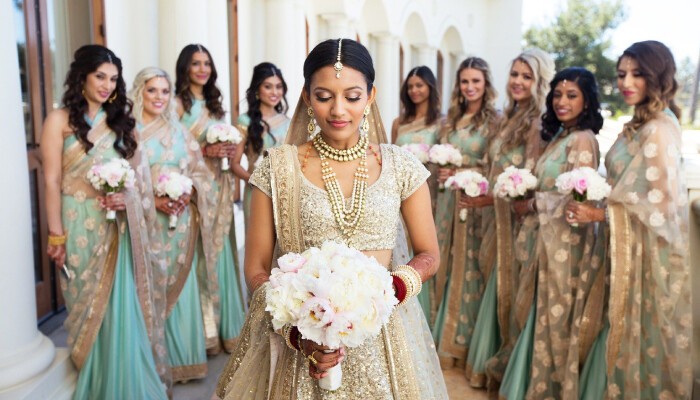 Brides look for the best wedding attire for their wedding day. Wedding attires are a reminder for their big day. Choosing the perfect wedding attire for bridesmaids is equally important. A bridesmaid wedding attire set off the tone of a wedding celebration, and it must blend with the bride's wedding dress, flowers and other decorations. Make sure to pick a wedding attire that complements the bride's outfit. The following are some of the fashionable wedding outfits for bridesmaids. This article would serve as a guide for choosing a perfect bridesmaid wedding attire based on the style of your wedding.
Formal Bridesmaid Wedding Attire Ideas
Bridesmaids usually go for formal wedding attire, when they attend a traditional or formal wedding. Some of the formal bridesmaid outfit options are listed below.
Long Bridesmaid Dresses: This would be a perfect option for formal weddings. Bridesmaids look elegant with formal full-length gowns. If you wish to cover up your legs then wearing a long gown would be the right choice. You can avoid wearing stockings with these formal wedding outfits for bridesmaids. Make sure to discuss with the bride on the length of the wedding gown.
Short Bridesmaid Dresses: A short bridesmaid gown is comfortable to wear, and it is highly versatile. It would be a perfect choice for a summer outdoor wedding. Customize your short bridesmaid using a variety of styles and fabric options. Make sure that the length of short bridesmaid dresses is not too short.
Informal Bridesmaid Wedding Attire Ideas
Informal wedding attire can be chosen when you plan for a modern or casual wedding. Here are some unconventional and beautiful wedding outfits for bridesmaids.
Sheath Style Dresses: A sheath style bridesmaid attire can pair well with a sheath style bridal outfit. This style of wedding attire is a perfect fit for the different body types of bridesmaids.
Simple Maxi Dresses: Maxi type bridesmaid dress is a perfect pick for a casual wedding.
A simple maxi dress offers a stunning look to the bridesmaid. Choose the right fabrics and shades for your maxi type wedding outfit that complements the bride's attire.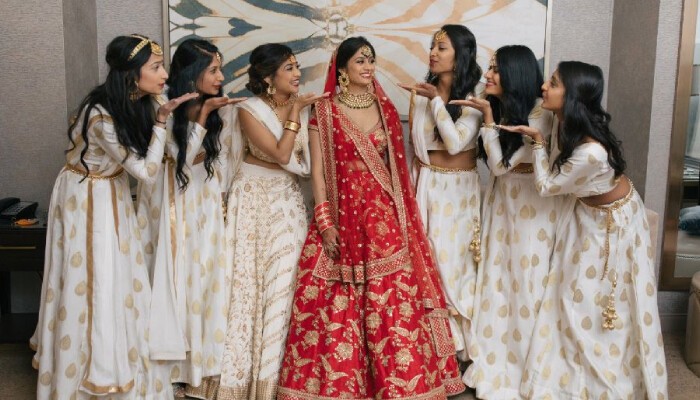 Bridesmaid Wedding Attire-Color Trends
Colours play a subtle role in enhancing the grandness of wedding outfits for bridesmaids. The following are the top colour trends of the year 2020.
Pink: This is an all-time favourite wedding attire colour of most of the bridesmaids. Pink wedding outfits signify beauty and bring out the feminine nuance of the wearer. Bridesmaid wedding gowns in caramel pink and dusty pink is the latest colour trend.
Red: This is a popular wedding attire colour trend highly popular all over the world. Red colour shades range from tomato red to dark wine red.
Turquoise: This is an apt colour that suits a bridesmaid wedding outfit. People who dislike attractive colours can very well wear a turquoise bridesmaid dress for a wedding.
Bright Green: This is an elegant and attractive colour. Dark green-coloured wedding gowns offer a stylish look to the bridesmaid.
The above serves as a perfect guide to choose the right bridesmaid wedding attire.
Find Out More About : Things To Keep In Mind While Planning Men's Wedding Outfits