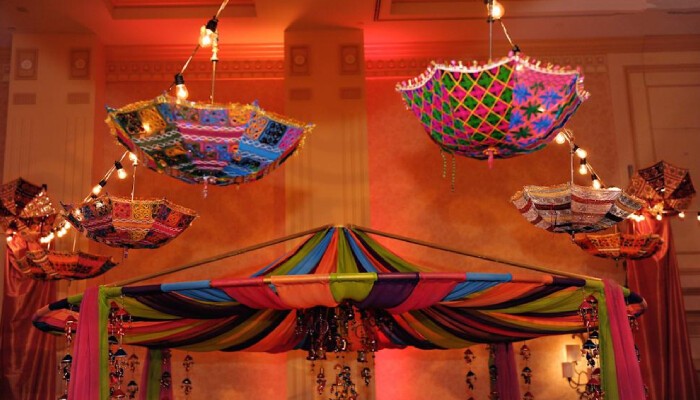 Getting Creative On A Shoestring Budget
Weddings are events where you can get to unleash your creativity to no end. As long as it is colourful, vibrant, positive and beautiful, you won't have many naysayers. And who said that wedding decorations have to be expensive? There is no such rule.
Of course, no wedding is truly complete without the decor. However, even the simplest of decors can put some extra magic into this once-in-a-lifetime event. In this article we give you the most quirky ideas to deck up the wedding venue from articles that are lying within your arm's reach.
Surprised? Don't be. Because that is just an example of how much you can stretch your imagination and make things work on a minimal budget. Forget about hiring those expensive and in-demand venue decorators. Rope in your friends and family. Form a team. Get out your basic DIY kit and get ready to wow your guests with the most inexpensive but captivating wedding decoration ideas.
Sprinkling Some Magic With Household Items
The most mundane household knick knacks can turn the wedding venue into a gorgeous place of celebration. And the best thing is that they will hardly cost a fraction of what outlandish wedding decorations will eat off of your budget. Aside from saving costs, you will be adding aesthetic value to the decor which will, undoubtedly, become the talk of the town.
Prepare to be amazed by how some ordinary items can become extraordinary pieces of decor:
Umbrellas: Upside down umbrellas hanging from the ceiling, tree branches, temporary archways, etc will make your guests look up and gasp in amazement! Choose thematic colours and designs. Or simply go for the colours of the rainbow. Spruce up the umbrellas by attaching fairy lights on their edges. Bells and flowers are also great alternatives.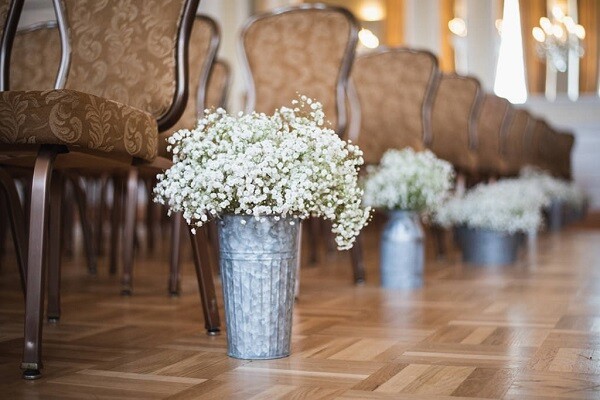 Buckets: Buckets? Yes, buckets. An unconventional choice, but paint them in bright colours and hang them all over the place and see how they transform the venue! Make use of the big trees in the venue to hang the buckets with equally colourful ropes. Take the decor a notch further by filling the buckets with flowers. Another good tip-choose buckets of various sizes to add another dimension to the dramatic effect.
Pickle jars: It's time to give the old granny pickle jars a new avatar. They can be used as attractive centerpieces to hold bunches of roses, gerberas, gladioli or any long-stemmed exotic flowers. Small jars can also serve the same purpose. Pickle jars are aesthetic objects. Even if they are not very colourful, they do not require a makeover.
They do not cost a fortune. Buy them from roadside vendors and brighten someone's livelihood!
Brass pots: You do not have to go looking anywhere for brass ware. Your own grandmother's cupboard might be a treasure trove of these age-old utensils that come in a myriad of shapes and sizes.
A thorough polish can infuse life into them and once that's done, they are good to go! Fill them up with strings of marigold. Place the brassware in corners and stairs and arrange the flowers to look like they are spilling out of the vessel.
Kites : Kudos to the genius who first thought of using kites as table mats. These simple, yet colourful kites can effectively replace table mats as they can be easily disposed off after the event. Square-shaped kites can accommodate the plate and cutlery. Cut off the string and place only the kites on the table.
Go for colours that pop off the table. See how this idea makes jaws drop in awe and wonder!
Empty alcohol bottles : A slightly offbeat idea, it is only ideal for families who do not scrunch up their noses at the sight of alcohol bottles sitting as centerpieces on the dinner or lunch table.
For a prettier alternative, dress up the bottles in glitter or tie a bow around the necks. Or glam them up with funky stickers. Imagine the amount of money you would save by using the unused bottles lying in your basement.
Cheap And Best Ideas To Transform A Wedding Venue
Paper is the most versatile tool to make DIY wedding decorations. Paper pom-poms, crepe paper, paper wedding bells, and paper lanterns are easy to make, install and dismantle.
If you are planning an evening wedding or reception, what better way to decorate the place than with candles? The soft glow of candles makes for beautiful photos and a romantic setting. But of course, you will have to take extra care to avoid any accidents.
Flagging tape is a great alternative to ribbons that can cost you a good sum of money when you want to decorate a big area. Flagging tape, which is actually a plastic caution tape that comes in a variety of colours can be as effective as ribbons. But it is dirt cheap when it comes to the cost.
Find Out More About : New Décor Style In Trends- Organic Wedding Décor!