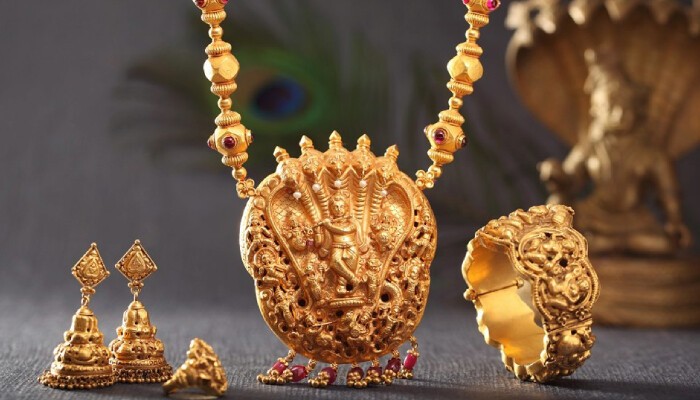 South Indian weddings are known for their rich tradition and grandeur. Bridal jewellery is of greater significance in South Indian weddings. South Indian brides usually wear a complete collection of traditional wedding jewelry as it is regarded as the status and pride of a family. In south India, brides prefer to wear gold jewelry compared to other types of jewels. The following lists some of the popular and must-have jewelry sets of a South-Indian bride.
South Indian Wedding Hand Jewelry Collection
Vanki: It is a popular wedding jewellery that symbolizes strength. It is usually made up of gold studded with precious stones. This inverted V-shaped jewellery comes with a variety of various motifs. It is a must-have wedding hand jewelry of a traditional South Indian bride. Multi Use Vankis are available in the market. It can be used both as a vanki or a choker.
Bangles: Broad and heavy bridal bangles add up to the beauty of a South Indian bride. Bangles are decorated with diamonds, precious stones and other types of stones.
South Indian Wedding Jewelry Neck Pieces
Necklace: This is a neckpiece that is usually worn around the neck. It is an ancient type of neck jewelry. Gold necklace with intricate works makes it favourite wedding jewelry of the South Indian bride.
Haram: It is a long necklace or chain which adds grandness to the bride's wedding attire. It comes with an engraved central piece. This jewelry is perfect proof of the craftsmanship of South Indian Jewelry.
Kasumala: This is must-wear wedding jewelry for most of the South Indian brides. It is a necklace-type jewel where several same sized gold coins are chorded together. You can go for a short or long type kasumala that suits your wedding attire.
Mango Mala: This is a lightweight chain with mango shape designs. Mango mala studded with precious stones makes it look attractive. You can choose simple and grand designs of mango mala. It blends right with traditional silk sarees. The intricate pendant of the mango mala makes it a perfect South Indian Bridal jewelry. You can choose with the various versions of the mango mala.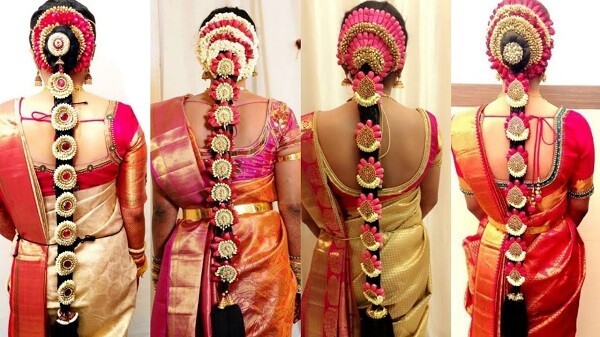 South Indian Wedding Hair Jewelry Collection
Jadanagam: This is a unique South Indian jewelry to decorate the braided hair of the bride. This jewelry signifies power and protection. It is usually made of precious stones like ruby, emerald etc. Pearls offer a rich look to the jadanagam.
Nethichutti: This traditional wedding jewelry covers the forehead of the bride. Embedded gemstone designs, gold bands studded with diamond or Kundan stones are the perfect picks of a South Indian bride.
Suryapirai and Chandrapirai: These are traditional brooches in the shape of sun and moon. It is worn as a symbolic representation of blessing from celestial bodies.
South Indian Wedding Waist Jewelry
Ottiyanam: This is a belt type of jewelry that makes the bride look elegant. Vadanam or Ottiyanam mainly holds the saree in its place. It brings out the grace of a South Indian Bride. It is usually heavily decorated with carvings and studded with precious stones. Ottiyanam is also engraved with motifs of deities and birds. Multi Utilization type vaddanam is modelled such that it can be used as a necklace or a haram.
South Indian Wedding Ear Jewelry
Jhumkas: This traditional type of ear jewelry can be seen in most of the South Indian weddings. It offers an exquisite and elegant look to the bride. Mostly gold jhumkas are decorated with stones. Jhumkas with hangings brings out the opulence of your wedding attire.
The above gives an overall idea about the must-have South Indian wedding jewelry.
Find Out More About : Wedding Jewellery Ideas For South Indian Brides