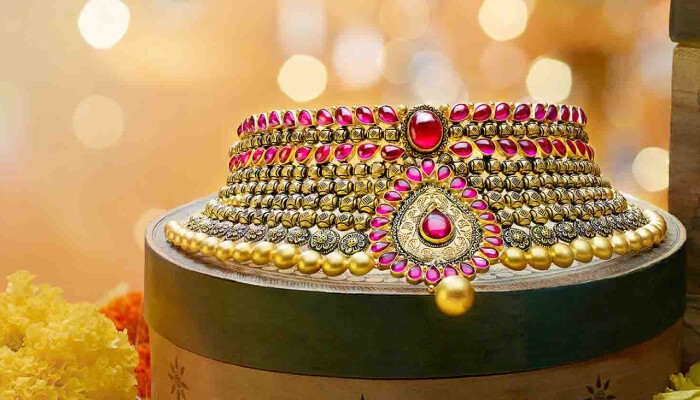 Interesting South Indian wedding jewellery ideas
Temple jewelry is famous for its beauty and grandeur. It is highly preferred to other kinds of wedding jewellery because of its lustrous and royal appearance. When it comes to North Indian weddings, Kundan, pearl, and delicate polki are given first preferences. But the jewelleries used by the South Indian newlyweds are completely different. In South India, it is believed that a bride is incompletely dressed when she does not wear gorgeous looking temple jewelleries. If you are a South Indian bride and looking for unique wedding jewellery ideas, you should continue reading this blog for more ideas and tips.
Temple jewellery is famous and known to all the Southern states of the country. In recent years, North Indians are slowly getting attracted to temple jewellery and have started to add this unique type in their wedding functions. If you have seen Bollywood superstars in various wedding functions, you can notice them wearing lovely temple jewelleries as statement pieces. No matter, you wish to impress your mother in law or you are a bride from South India, here are some South Indian bridal styles you should focus on.
Ancient wedding jewelleries of South India: Nethi Chutti and Jada Billa
Nethi Chutti is also referred to as maangtikka. It is an important bridal jewellery in South India. A bride is said to look incomplete when she does not wear nethi chutti. It comes in different styles but the traditional temple style nethi chutti is famous. It looks divine and resplendent on a bride. In recent years, nethi chutti are designed with a small single pendant. If you want to look simple or wish to utilize the wedding jewellery in future, it is best to select a single pendant design.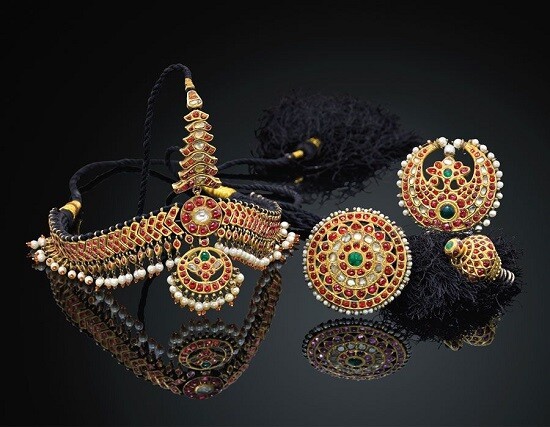 South Indian brides are complete with intricate jada billa and exquisite flowers in hair. Jada billa should be added in such a way, it decorates her long braid. There are several types of hair embellishments utilized in the South Indian wedding. But nothing is equal to the elegance of long thick plait decorated with jada billa that is made out of fresh flowers and in temple design. If you are thinking how to do a hairstyle for your South Indian wedding, consider pleating your hair neatly and decorate it with a beautiful temple-style jada billa. It is best to get assistance from your hairstylist when you want to add the flowers creatively in the braid.
How vanki and bangles play an important part in South Indian weddings?
Bangles have various names in South India. In Tamil, it is valayal, bale in Kannada, and gujju in Telugu. Bracelets or bangles are also included in South temple jewellery designs. When you see the temple jewellery bangles, you would notice it thick and heavy. It looks fabulous with traditional silk saree or Kanjeevaram saree. It is sufficient to wear just one bangle in each hand as they look quite grand and elegant on their own. If you want to create a new look, you can match it with reedy gold bangles.
Bajubandh or vanki is an important piece of jewellery for every South Indian bride. If you are wearing vanki, choose a blouse with cap sleeves or small sleeves as it goes with it well. If you are looking to combine traditional and modern style or give a retro look, you can select a high neckline. It is the best option for brides wearing vanki. To show off your lovely vanki, you can select a boat neck blouse that comes with small sleeves.
Find Out More About : Glimpse Of Indian Bridal Jewelry Trends