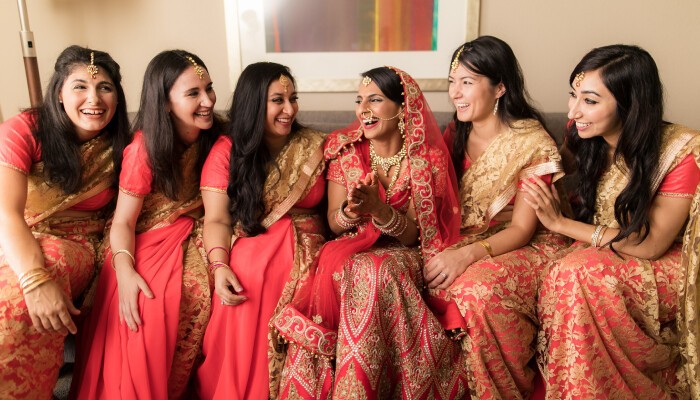 Tips for selecting bridesmaid dresses
It is not simple to select bridesmaid dresses. It should be selected in such a way it matches the charisma and charm of the bride. Just like the bride, the bridesmaid will also wish to stand out in their best friend's wedding. Are you wondering what kind of options available for bridesmaid wedding dresses? Well, there are a lot of options but it is challenging to select the right one from many. Moreover, it should also match along with the bride's clothing.
Indian weddings are famous for grandeur and inspirational style. Indian culture is beautiful and rich and every person around the world loves an Indian wedding for these reasons. Lehengas are the latest bridesmaid dresses. You can try new styles or match it with the latest trends as you wish. When you are selecting lehengas as a bridesmaid dress, you can easily get that coordinated look. The best part is all can wear different lehengas of their choice but still achieve that coordinated look. We have shared a list of best bridesmaid dress ideas that you can make use of.
Bridesmaid wedding dress options and trends
1. Contrast bridesmaid dresses: When you want the bride to look unique, it is best to try this contrast theme. All your best friends can select sarees of the same design and color and the bride can choose a wedding saree in contrast color. It is one of the latest trends as a bridesmaid is free to select what they want. They just have to keep one element common between them. For example, they can have the common element as the same design blouse, matching saree, or common lace. They should have something common with the bride's clothes or accessories. When you see the results, the color combination of the bride and bridesmaid will be pretty which you cannot take your eyes off.
2. Color blocking: Another popular trend in the wedding world is color blocking. Though everyone enjoys using these looks personally, it is hard to see in wedding attire. If you like color blocking style, you should consider utilizing the Bridesmaid dresses. It helps in expressing your wedding color palette and style into the wedding. Thus, the final look will stand ahead of tradition.
3. Same color styles: When you want the entire bridesmaids and bride to maintain the same color theme, you can select a single shade and try to stick to it. If possible, you can select the same color embroidery, similar print, same bridesmaid outfit, or same color palette. It will be simple for everyone and all will look more bashful or blush. Some try the same dress color but different dress styles.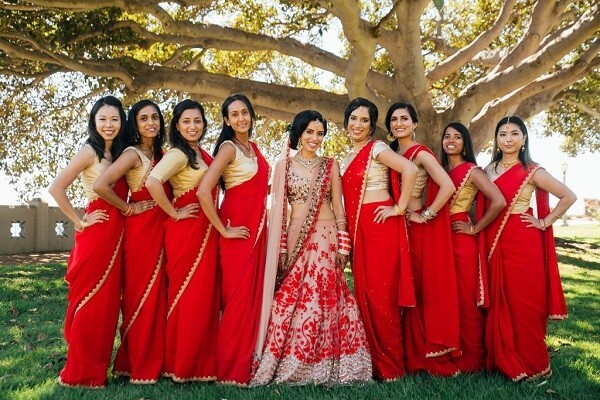 Exclusive ideas for selecting bridesmaid dresses
Select bridesmaid dresses in such a way, it can be reused again. Do not buy for just this occasion. If you are buying lehenga for the entire bridesmaid, see whether everyone likes the design and color. If one or two do not like it, then they would not reuse it again. They would just wear for your wedding and keep it aside without reusing. It is always best to buy clothes that everyone likes.
Consider the budget of your bridesmaids. For example, if you have selected a bridesmaid dress for INR 10,000, all of them can't pay and purchase that dress. When you are finalizing a dress, you have to decide the budget and style. You should see whether you can purchase it within that specific budget.
Select bridesmaid dresses that go well with the bridal outfit. You can select a color or design and use that as inspiration for the bridesmaid outfit.
When selecting a dress for bridesmaid, consider their style and preferences. Sometimes, your best friend and you may not have the same color preference or design preference. If you do not want to have the same outfit, it is best to give them freedom. Let them select their favorite dress with a single common element.
Some of the trending options for bridesmaid dresses are sarees, Anarkali, lehengas, shararas, and Kanchipuram sarees. Before picking any theme, you can completely search online to get an idea about new collections and trends. If possible, discuss with a dress designer as they know what is trending.
Find Out More About : Perfect Ideas On Bridesmaid Wedding Outfit